And the winner is...
The 11th annual Vice-Chancellor's Awards dinner took place on Wednesday 30 November, recognising the exceptional contribution that our academic staff, PGR students and colleagues from professional services, research and teaching make to our University. The winners were announced at a glittering ceremony that took place at the University Hall and was also streamed online.
The Colleague of the Year Award recognises an individual member of staff who has markedly and consistently enhanced the working environment of other staff in the University, and exemplified our core values: Inclusion, Inspiration, Innovation and Integrity.
This year's nominees were: Kelly Howson, Kelly McCabe, Perry Petworth.
AND THE WINNER IS...
Perry Petworth, Senior Building Surveyor, EFCS Maintenance
Perry has made a lasting impression on so many colleagues since joining the University six years ago. He is highly regarded by his entire department and beyond.
Perry strives to improve the student experience and delivered almost £12m of projects this summer overseeing major works such as the refurbishment of Block D and the Teaching Block, both on time and on budget despite major supply issues.
Much relied upon, Perry has been commended for his dependability and problem-solving expertise and for working inclusively with large teams to establish a sense of collegiality working on major projects.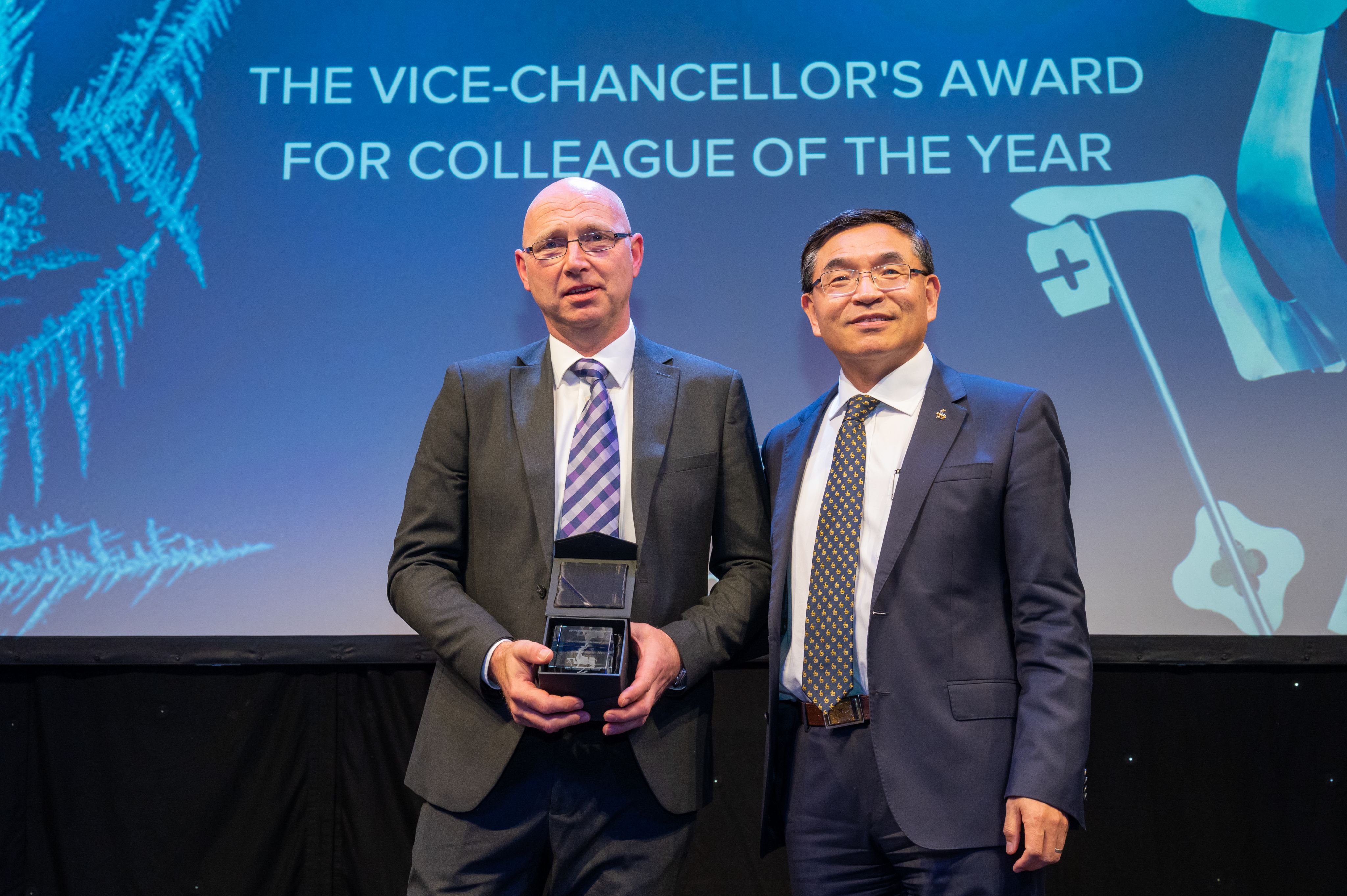 The Vice-Chancellor's Award for Leadership recognises an individual member of staff who has exhibited strong and effective leadership (or potential) by undertaking activities either formally through their role or simply by taking responsibility when leadership was required to achieve a particular goal.
This year's nominees were: Emily Farran, Karen Gates, Emma Mayhew.
AND THE WINNER IS...
Karen Gates, Head of Alumni and Supporter Engagement, Advancement, External Engagement
Karen brings an infectious brand of enthusiasm and energy to her role, successfully leading her team to a record-high score for Surrey in the Alumni Engagement KPI.
As well as encouraging ambition within her immediate team and the wider Advancement team, she is highly skilled in understanding the broader strategic landscape at Surrey and played an invaluable role in developing and delivering the launch of the University's global fundraising Campaign in February.
Her collaborative nature, willingness to go beyond the boundaries of her role and her talent for identifying and nurturing the talents of others - regardless of whether she has line management responsibility for them or not – makes her a true team player at all levels.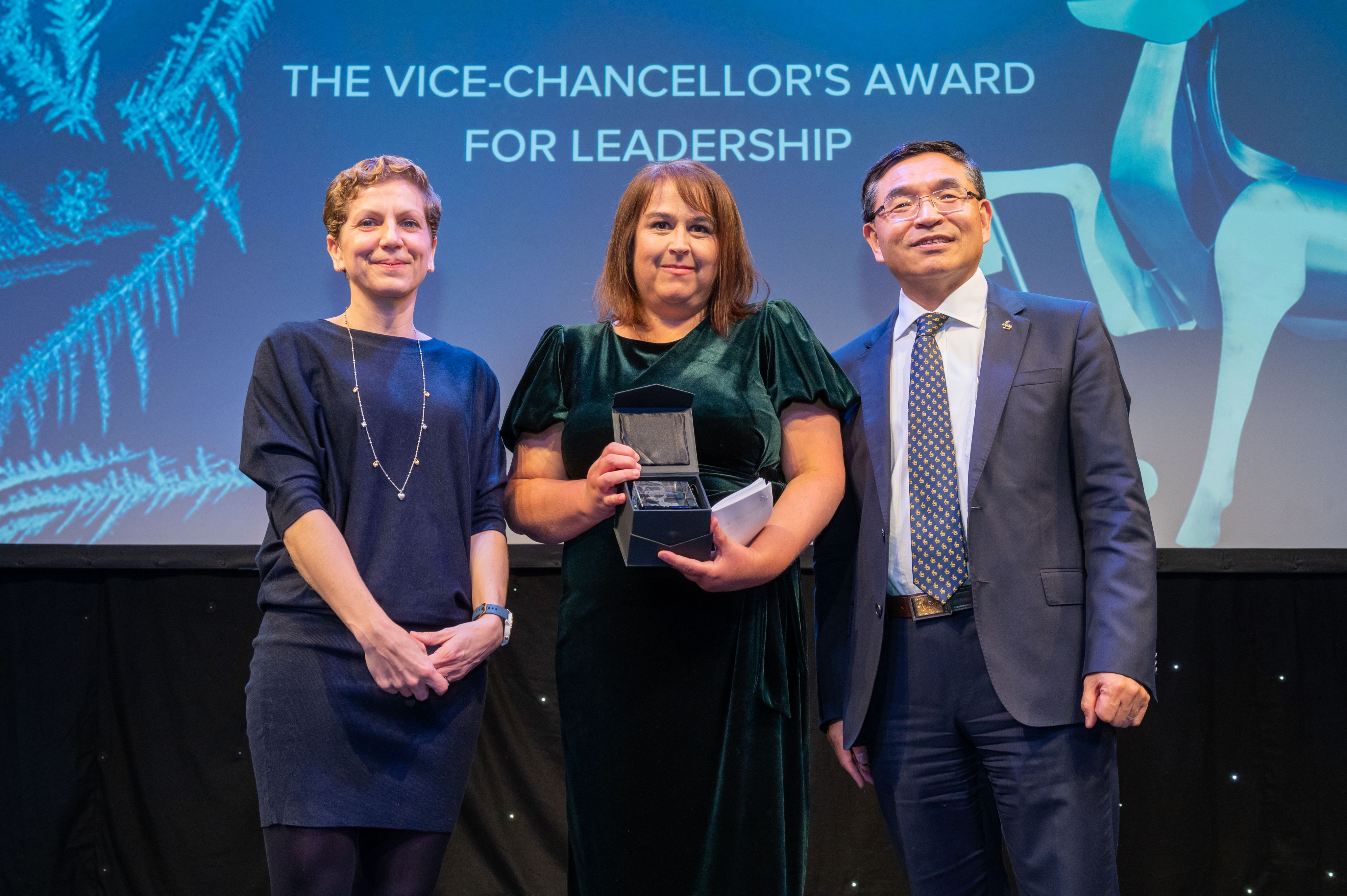 Equality, Diversity and Inclusion
The Vice-Chancellor's Award for Equality, Diversity and Inclusion recognises an individual member of staff who has substantially contributed to the development and/or celebration of our diverse and inclusive culture by, for example, acting as a positive role model who consistently champions equality, diversity and inclusion, or developing events and activities with demonstrated outcomes.
This year's nominees were: Eilis Foy, Jessica Johnson, Alice Spencer.
AND THE WINNER IS...
Eilis Foy, Head of Facilities Management, EFCS Estate Services
Eilis is passionate about looking after people and ensuring they are treated fairly.
An expert at getting things done through effective collaboration, Eilis successfully manages the largest team on campus.
For many in her team, English is not their first language. To help her colleagues, Eilis facilitated English lessons by UoS staff for 50 of her team, and also arranged for documents to be translated into multiple languages within the department.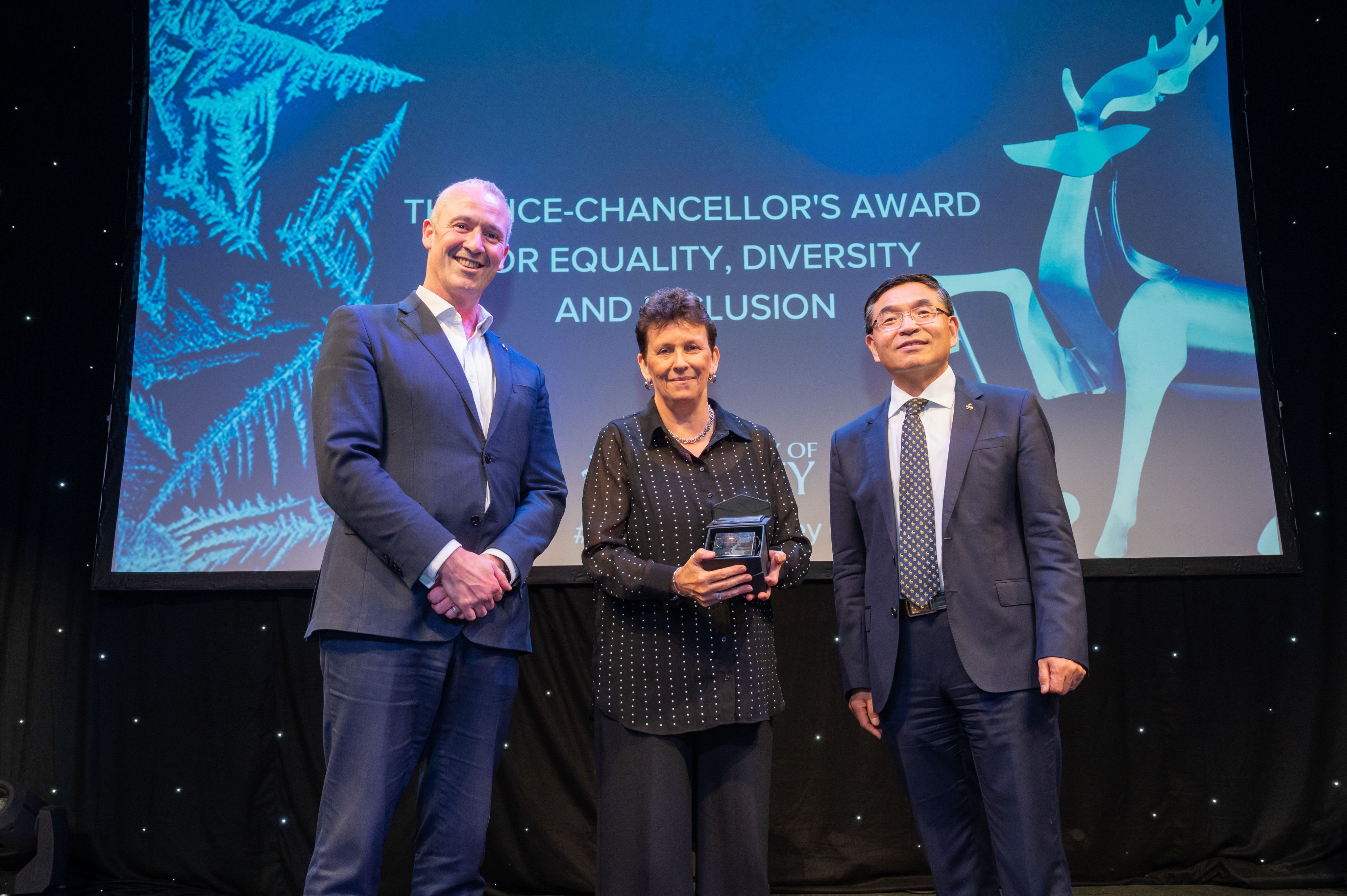 Health, Safety and Wellbeing
The Vice-Chancellor's Award for Health, Safety and Wellbeing is awarded to an individual who has made an exceptional contribution to improving the health and safety performance of either their section or a major part of the campus, whilst still managing their own workload; or who has demonstrated their support to the health and wellbeing of colleagues and students particularly during the pandemic. In doing so, the individual's efforts are over and above normal core duties and has had a direct impact on enhancing the safety of working environment of students and/or staff or visitors to the University of Surrey campus, or the health and wellbeing of staff and/or students. 
This year's nominees were: Ben Gibbons, Catherine Jones, Sarah Sage.
AND THE WINNER IS...
Sarah Sage, Theatre Technical Manager, GSA, FASS
Sarah's tireless work ethic and passion to deliver for Health, Safety and Wellbeing initiatives for students, staff and visitors make her an integral part of GSA. Her impressive knowledge means she is able to notice and address issues urgently and efficiently, ensuring the smooth running of teaching, productions and events.
Her initiatives considerably improve wellbeing for all. For example, she recently introduced a mobile elevated working platform that enables colleagues to install high-level lighting and speakers without the use of ladders.
Sarah has also been instrumental in dividing the welfare facilities in the Ivy Arts Centre to create a new accessible dressing room and a separate kitchen, as well as a 'green room' which provides improved welfare space and facilities.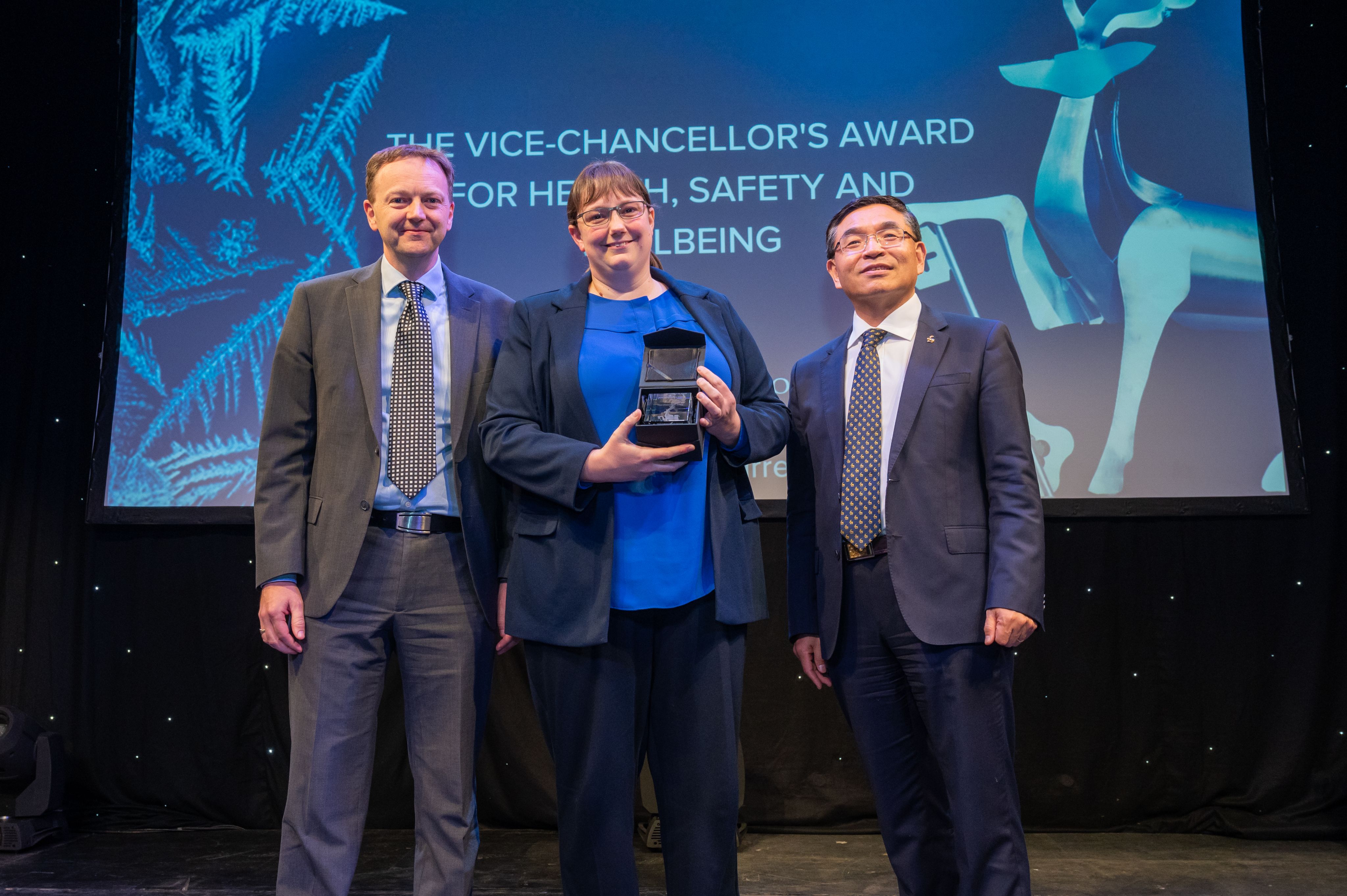 The Innovator of the Year Award is presented to an individual who has developed an outstanding innovative product, technology, process or service that clearly demonstrates an economic, social or environmental benefit to society.
This year's nominees were: Anna Cox, Malte Kaeding, Ben Saunders.
AND THE WINNER IS...
Ben Saunders, PGR, School of Computer Science & Electronic Engineering, FEPS
Ben Saunders has received high praise for his integral involvement in start-up Signapse, and for his collaboration on several separate research projects which have all run parallel to him completing his PhD.
Signapse is directly based on Ben's PhD work which is a transformative approach to generating photo-realistic sign language videos using AI that look like real human signers rather than synthetic avatars. This technology has created great excitement in the deaf community and the company won 'Start-up of the Year' at this year's Surrey Business Awards, which took place earlier this month.
Ben is currently Chief Technology Officer (CTO) at Signapse and has been commended for his handling of client and investor meetings, management of the development team and development work on the core technology, all whilst writing his thesis.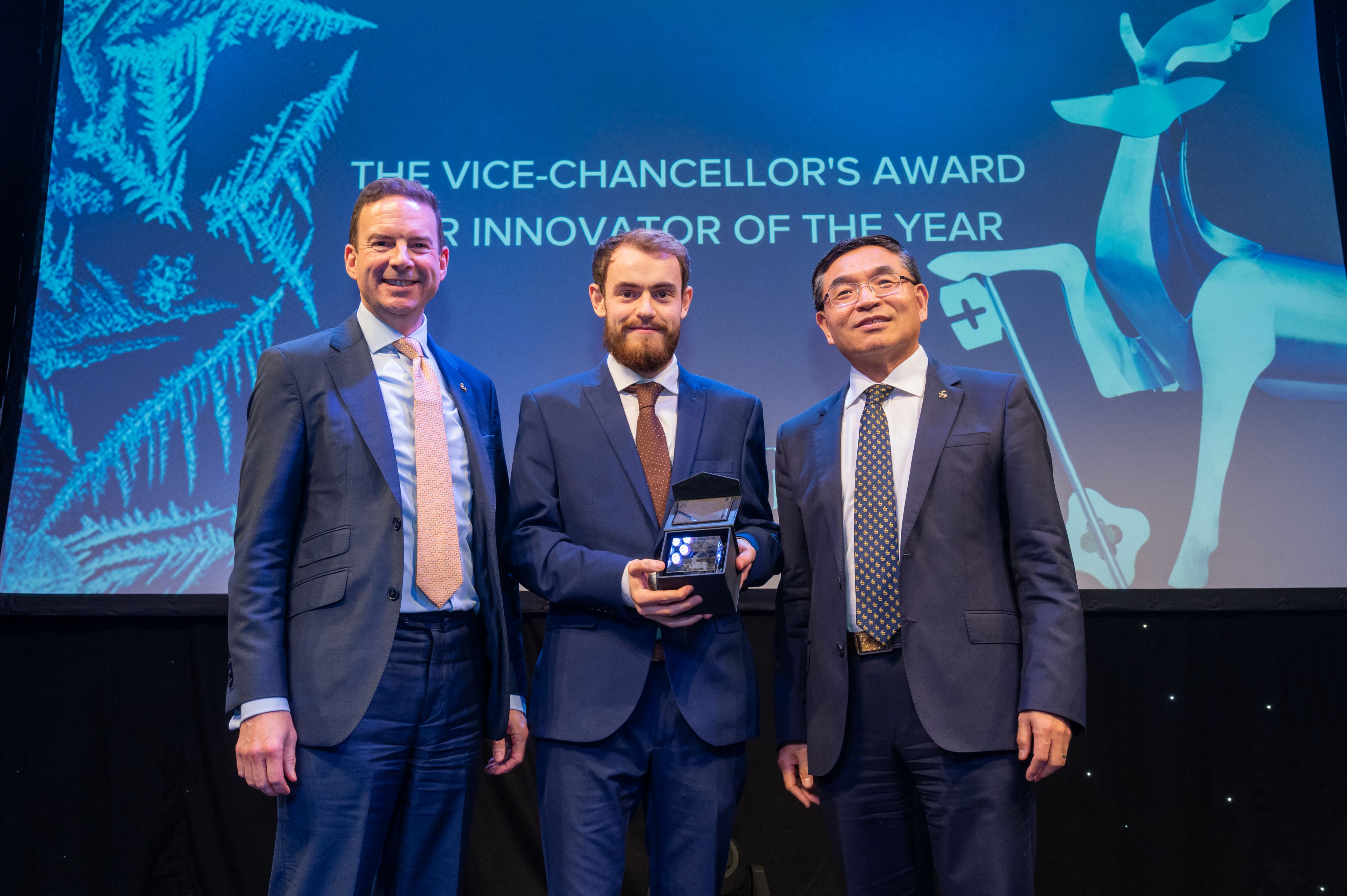 The Teacher of the Year Award recognises and rewards staff who have been teaching at the University of Surrey for three or more years and have made a significant contribution to enhancing students' learning experience and the quality of their learning.
This year's nominees were:  Mark Ashton, Melis Duyar, Fabio Fasoli
AND THE WINNER IS...
Mark Ashton, Senior Lecturer, School of Hospitality and Tourism Management, FASS
Mark has consistently proven himself highly effective in teaching, supervising, and mentoring a broad range of students and is dedicated to developing and managing innovative programmes.
His extensive industry experience, gained from a senior management role in hospitality, and his academic research allow his teaching to be both relevant and rigorous, and he firmly believes in encouraging students to develop their own professional identity by engaging in authentic tasks such as the design and development of hospitality events.
Students highly appreciate his dedication to supporting them in a range of ways; this includes arranging access to industry mentors and guest speakers, integrating digital resources into valuable teaching materials and offering authentic assessments.
Mark continues to demonstrate enthusiasm for advancement of his own subject area: digital innovation in hospitality. His research on automation and service robotics has been published in top tier academic journals and presented at international conferences.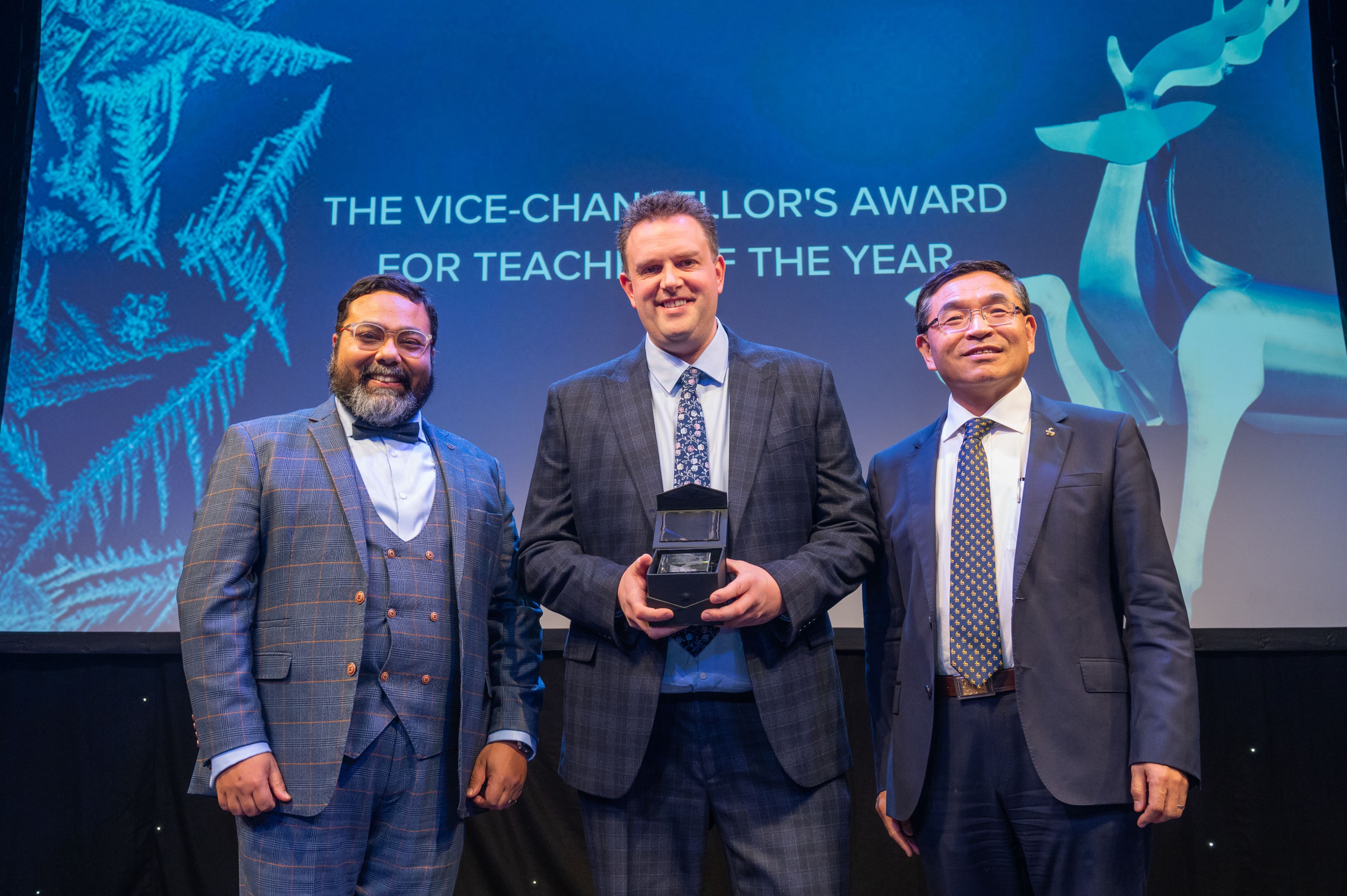 The Researcher of the Year Award recognises staff that have spent ten years or less as an independent researcher and whose recent research has successfully challenged dogma, created a new field of research, elucidated a new paradigm, made a fundamental change in thinking or had a significant impact on society. 
This year's nominees were: Chrissie Jones, Charlotte Mathieson, Yunlong Zhao. There were two winners in this category.
AND THE WINNERS ARE...
Dr Charlotte Mathieson, Senior Lecturer, School of Literature and Languages, FASS
Dr Mathieson's research on the 19th and 20th century literary and medical cultural history of suntanning has led new directions in literary mobilities studies and literary and cultural skin studies nationally and internationally.
Her work has received significant recognition this year through the award of a prestigious British Academy Mid-Career Fellowship, for 12 months' full-time research on the project "Cultures of suntanning in late-19th to mid-20th century Britain". This is with a view to achieving broader transformative impact in the context of contemporary public health challenges around sun safety and skin cancer risk.
Dr Mathieson has sought to enrich Surrey's research environment through active research leadership in mobilities. With Dr Constance Bantman, she has co-led the growth of the Mobilities in Literature and Culture Research Centre to become one of the largest research groups in SLL.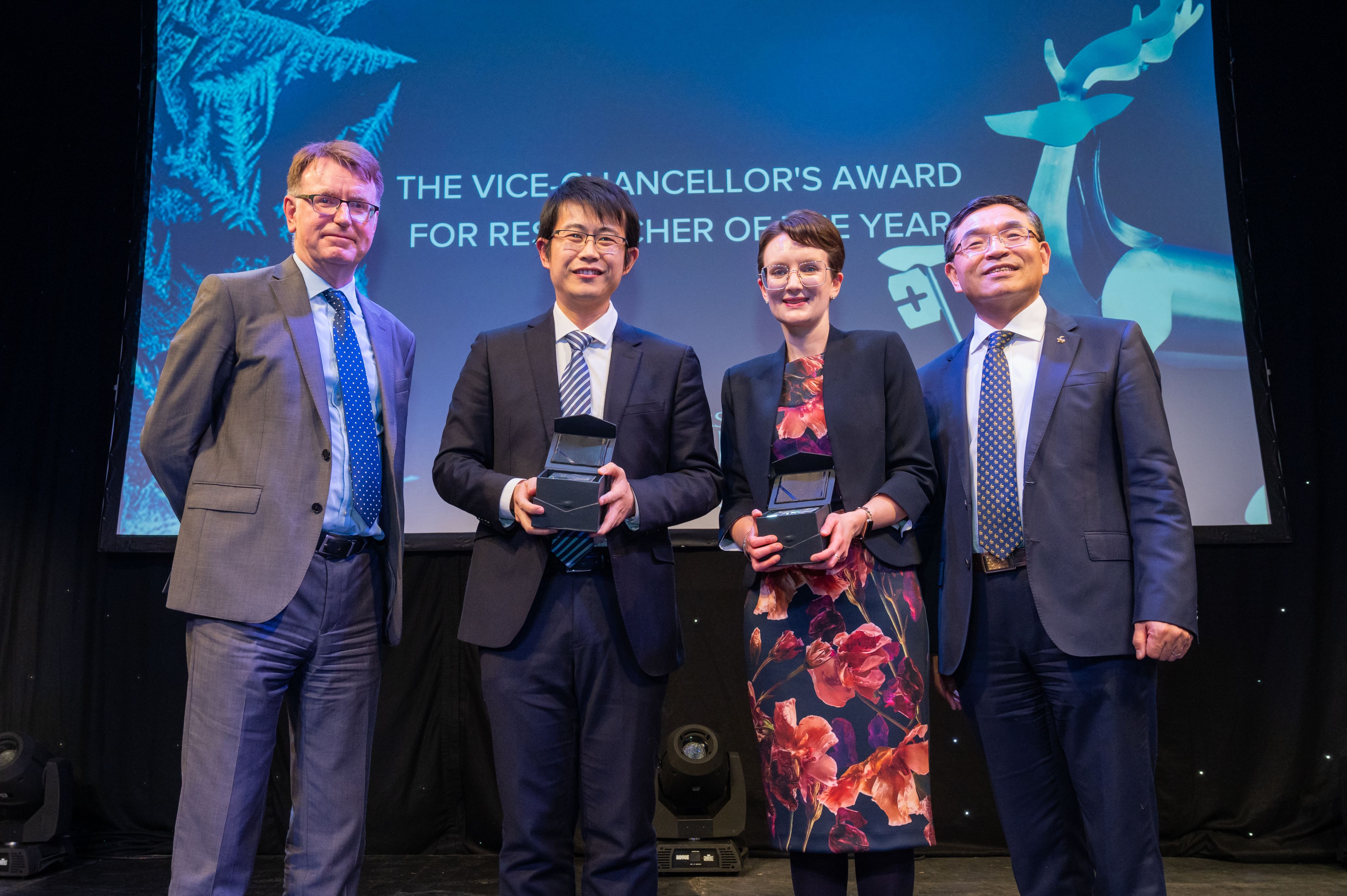 Dr Yunlong Zhao, Senior Lecturer in Energy Storage and Bioelectronics at Advanced Technology Institute, School of Computer Science & Electrical Engineering, FEPS.
On account of his academic contributions, Dr Zhao won the Wiley-VCH Rising Stars as the Worldwide Recognized Young Researcher (2022).
He has a deep interest in the rational design of advanced energy storage/conversion technologies for Sustainability and Net Zero and has secured research grants from EPSRC and the Faraday Institute while leading the team working on the development of next-generation batteries for electric vehicles.
Dr Zhao combines this specialism with the design and advanced manufacturing of bioelectronics and integrated soft systems for the Internet of things and healthcare, via engineering micro-/nanoscale materials to enable novel electrochemical energy devices, sensors, bioelectronics, and their integration in 2D on-chip and 3D soft systems. His work led to over 70 publications in peer-reviewed journals.
The PGR Student of the Year Award recognises full-time postgraduate research students in their third or fourth year, or final year part-time students, who have made a significant contribution to research.
This year's nominees were: Thi Bogossian Porto, Josephine Herschan, Emma Taylor.
AND THE WINNER IS...
Emma Taylor, Dept. Comparative Biosciences/School of Veterinary Medicine, FHMS
Emma's research on One Health approaches to disease control combines virology, epidemiology, mathematical modelling, economic analyses and animal behaviour to improve control of rabies, which has already had impact at international level.
She has overcome significant challenges during her PhD, not least working part-time in healthcare during the pandemic.
Despite having only just completed her PhD, Emma already has seven high-quality peer reviewed papers (five first author) in international journals and has had abstracts accepted for oral presentations at all the flagship international conferences for her specialty.
Her research has led to the University being invited to join the only worldwide alliance for rabies control (United Against Rabies Forum).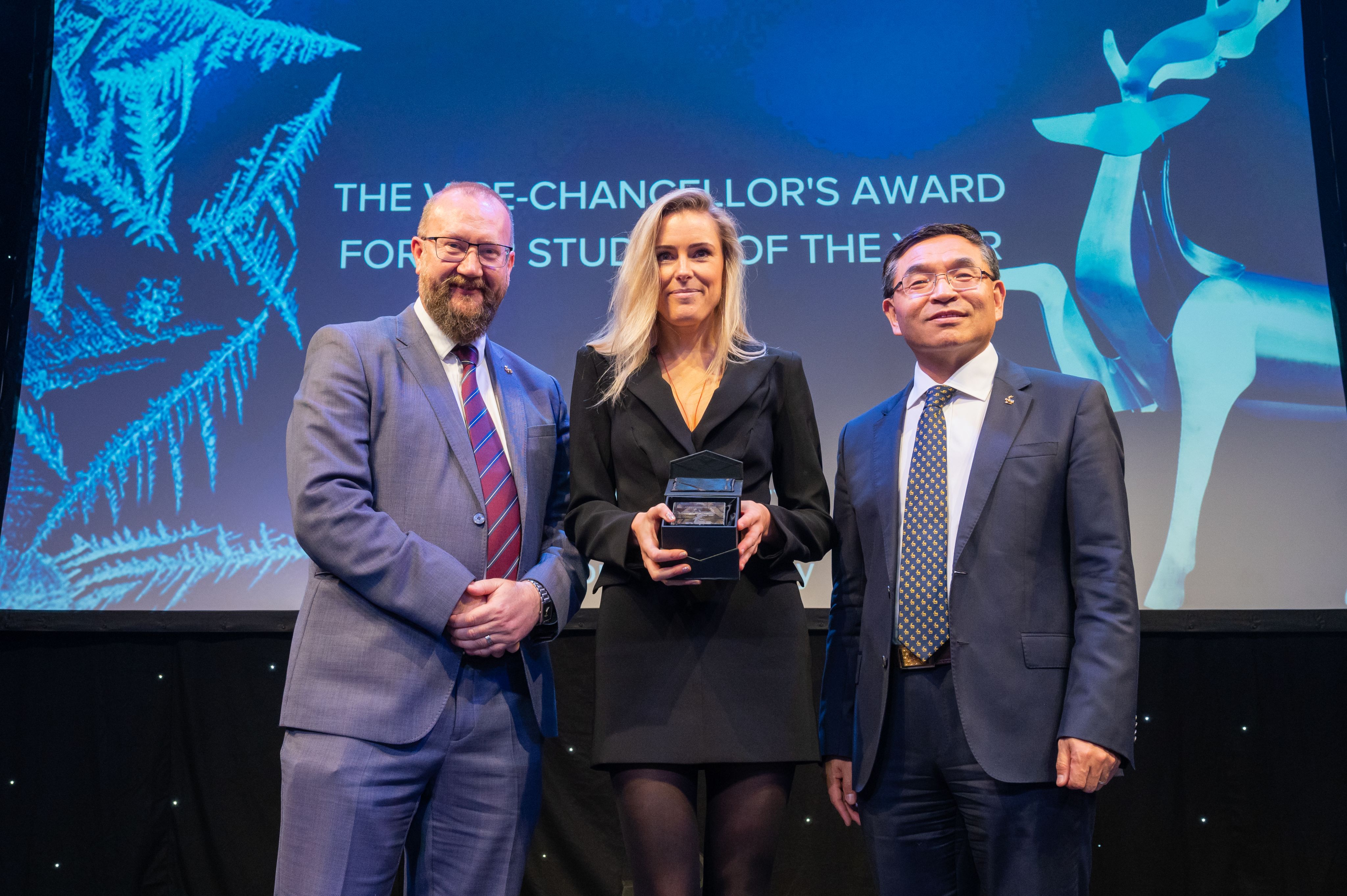 Research Supervisor of the Year 
The Vice-Chancellor's Award for Research Supervisor of the Year recognises an individual who has created the most supportive, stimulating and inspirational research environment for their students during their time the University. 
This year's nominees were: Bahman Amini Horri, Manuel Alector Ribeiro, Ines Violante.
AND THE WINNER IS...
Dr Ines Violante, Senior Lecturer, Psychology, FHMS#
A firm believer that great challenges can only be overcome through collaborative work – and that scientific advances depend on knowledge sharing – Dr Ines Violante encourages shared expertise amongst her students.
She is committed to imparting her knowledge and experience to more junior researchers, and equally to learn from the diverse backgrounds and perspectives of her students and post-doctoral researchers.
Dr Violante started her research group, the Neuro Modulcation lab, in 2018 since when it has grown impressively.
Praised for investing substantial time and effort into student growth, she is consistently patient, inspiring and willing to challenge conventional thinking.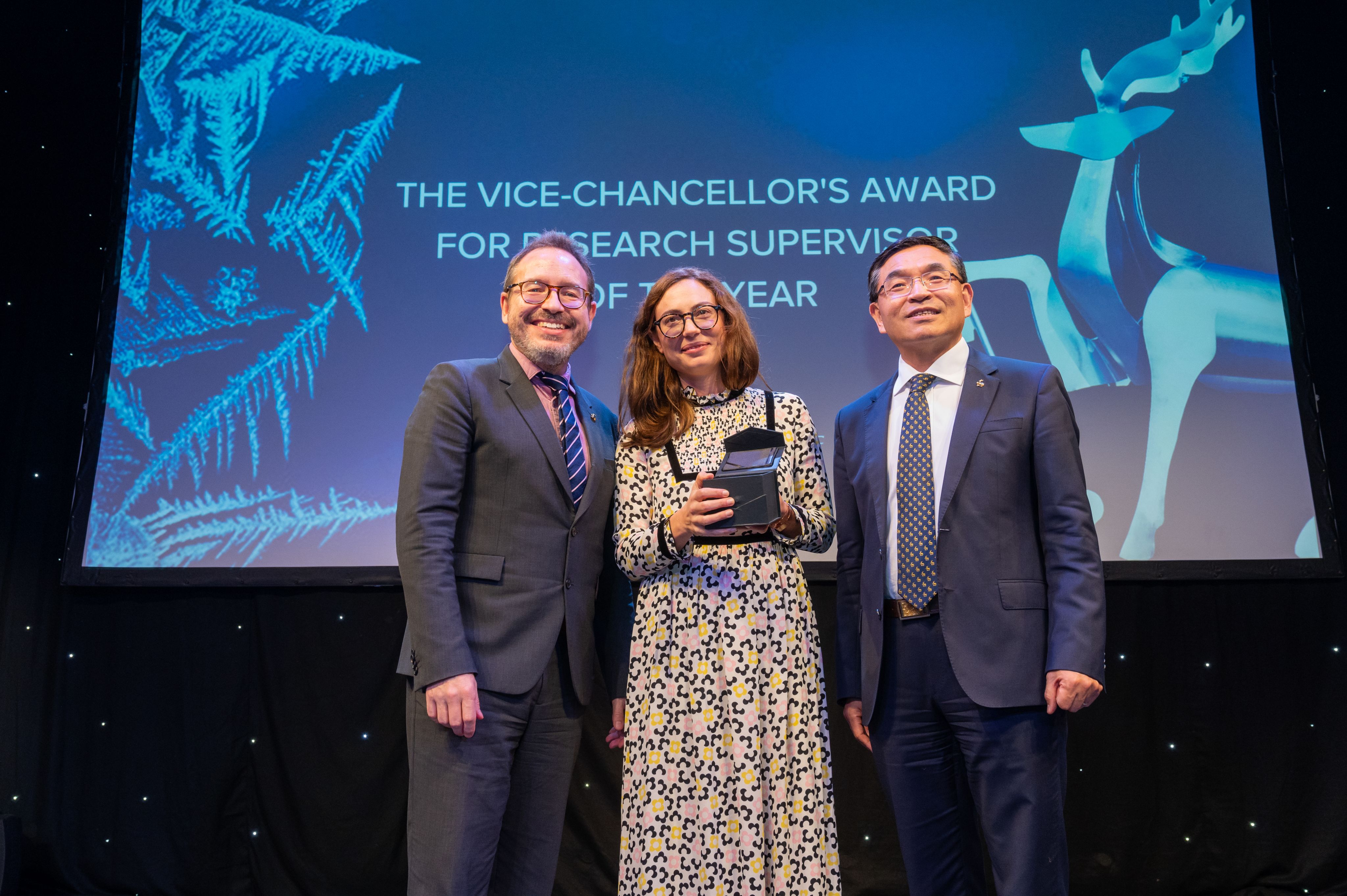 Early-Career Teacher
of the Year
The Early Career Teacher of the Year Award recognises and rewards staff who are within their first three years of teaching and have made a significant contribution to enhancing students' learning experience, and quality of learning.
This year's nominees were: Katherine Costello, Aife Hopkins-Doyle, Robyn Muir.
AND THE WINNER IS...
Dr Robyn Muir, Lecturer in Media & Communication, Sociology, FASS
Innovative and inspirational, Robyn has made an incredibly successful start to her career at Surrey by profoundly affecting students' learning experiences and the design of modules. She has enhanced module delivery by introducing learning technologies and by embedding employability in classroom and assessments practices. Always willing to share initiatives with colleagues, Robyn's collaborative approach helps to inspire new ideas.
Robyn is committed to addressing issues of equality, diversity and inclusion in her teaching. This includes her work on microaggressions in the classroom and decolonising the curriculum, where she has sought to influence wider University educational policy. Her work on academic integrity shows how she will identify issues where she believes the student learning experience and academic skills could be improved and then takes action to address them.